Meet our newest
warrior for women's health.
Katoya Wright is passionate about providing culturally diverse and preventative care for all women, in every shade of beautiful.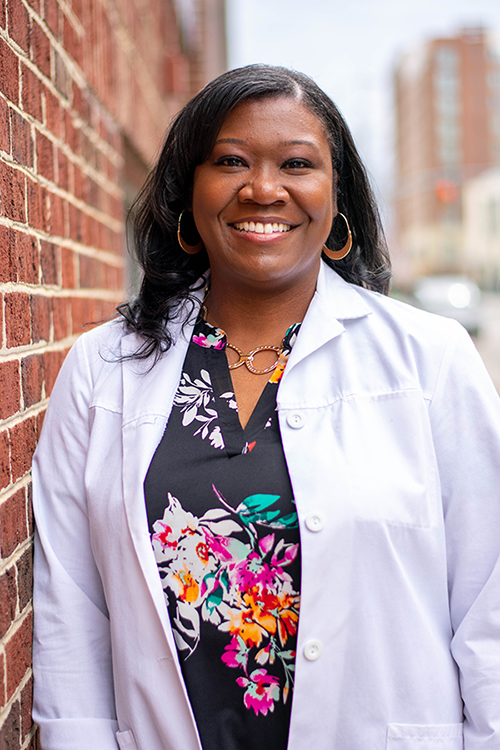 K
atoya Wright has dedicated her career to studying the female body. She is fiercely passionate about advocating for the health and betterment of women in every physical stage of life, and in all walks of life.
Though she was technically born on a U.S. military base in Bremerhaven, Germany, Katoya's family was reassigned shortly thereafter and she has lived in North Carolina since early childhood.
She earned her Bachelor of Science in Nursing from North Carolina Central University in 2007 and landed a new grad's dream job at UNC Rex Healthcare as an in-patient perinatal nurse. During this time, she worked alongside obstetricians at Rex to support hundreds of pregnant women throughout the course of labor and childbirth, including immediate postpartum guidance such as infant care and breastfeeding techniques.
After 12 years at Rex, Katoya wanted to expand her skills beyond in-patient care and returned to school to become a nurse practitioner (NP). She earned her degree at Simmons University and became board-certified in 2020. As an NP, she is able to provide a full range of care for women of all ages – including diagnosing and treating conditions, prescribing medications, and counseling. She is particularly passionate about connecting with adolescent women and advocating for their reproductive care and education.
Surrounded by females during her work day, ironically Katoya is outnumbered at home with sons and a husband.
The great Maya Angelou once said, "You can't use up creativity. The more you use, the more you have." On her off hours, when she's not wrangling boys, Katoya enjoys the art and serenity of creating – including painting, crafts, DIY home projects and gardening.